Commercial Demand Controller - Model 9388B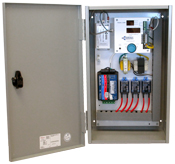 The Energy Sentry 9388B Commercial Demand Controller is one of our best selling models. The user-friendly compact design makes it ideal for small to medium commercial applications to manage peak demand. As your partner in savings, we will help determine which load configuration will provide maximum savings at the greatest convenience. Start changing the look of your electric bill today with the 9388B Commercial Demand Controller.
The 9388B Demand Controller has been used in wide number of applications to manage peak demand.
The most common are:
All Electric Buildings
Quick-Serve Restaurants
Churches
Professional Offices
Modular School Buildings
Restaurants
The elements of 9388B Commercial Demand Controller make it the most advanced and user-friendly design of any demand controller on the market.
Compact form allows for easy placement and installation
Easy-to-read digital display lets you watch your buildings energy use in action
Tailor it to your individual needs with over 100 different display options
A basic push-button switch and control knob, combined with the digital display make programming simple and convenient
Audible alarm to notify you when you're approaching the demand limit
Programmable to control for either straight demand rates or time-of-use rates
Automatic daylight savings adjustment and season changeover
Can be set to automatically change demand limit up to 12 times per year
Add-Ons:
Electrical
Power Supply Input:
120VAC at .25 Amp MAX
Current Transformer Input:
0-200 mA
Pulse Input:
KYZ (use either KY or KZ)
Pulse Constant Value:
.1 to 604.3 wh/p
Demand Limit Ranges:
9388BA: 40KW or 80KW
9388BP: 50KW, 100KW, 200KW, 500KW, or 1000KW
Demand Limit Resolution:
4%-99% of Full Scale
Demand Display Resolution:
.1KW
Demand Averaging Period:
15, 30, 60 minute
Demand Calculation Update:
< 1 second
Audible Alarm Outputs:
1' optional audible alarm
Relay Outputs:
8 Standard, 8 Additional with Expansion Board
Relays:
2 internal SPST-NC low-power outputs 3 Amps at 30VAC/VDC
Available with up to eight 30 Amp DPST-NC relays rated at 300VAC to control up to 16 circuits
Low power 3 Amp remote relays for HVAC control circuits also available
Powerline carrier system available
Standard Relay Configuration:
2 SPST-NC 35A/300VAC
System Settings Memory:
Non-volatile EEPROM/Battery Backed RAM
Mechanical
Size:

20" H  x  12" W  x 6  " D NEMA 1 Screw Cover Enclosure

Enclosure:
.060 steel NEMA 1 enclosure with hinged cover door for easy access
Weight
17 lbs.
All specifications are subject to change without notice